Expand your horizons and connect globally.
Discover a new dimension of growth and opportunities with tecnoPARQ's Cross Acceleration Program. Through this innovative initiative, we offer startups and innovative ventures the chance to expand their global presence, establish strategic partnerships, and drive their growth on an international scale.
Our program goes beyond the conventional boundaries of acceleration, providing a unique approach based on collaboration and access to a global network of partners. By connecting talented entrepreneurs, experienced mentors, and international investors, tecnoPARQ's Cross Acceleration Program provides a dynamic platform for the development of innovative businesses in an increasingly competitive global landscape.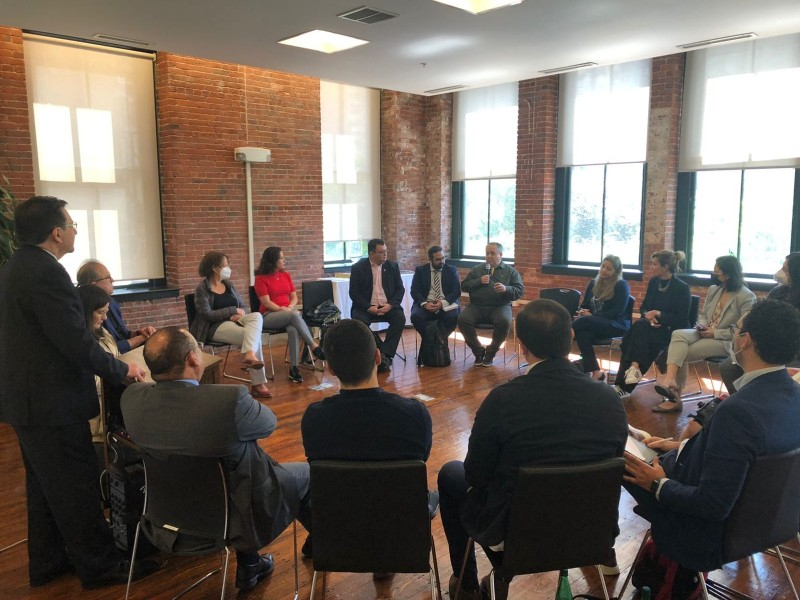 What does the program offer:
Access to a global network of strategic partners: With the Cross Acceleration Program, you'll have the opportunity to establish valuable connections with strategic partners in various countries. These partnerships open doors to new markets, business opportunities, and access to international resources.
Specialized mentoring: Our selected entrepreneurs have access to experienced mentors with specific knowledge in their respective fields. These mentors are committed to providing guidance, sharing experiences, and offering strategic insights to help your startup grow and develop.
Support in internationalization: We understand that global expansion can present unique challenges. That's why we offer specialized support to assist your startup throughout the internationalization process, from adapting to foreign markets to addressing legal and regulatory matters.
Events and connections with investors: Through the Cross Acceleration Program, you'll have access to exclusive events and networking opportunities with international investors. These interactions are crucial for attracting investments, ensuring the financial growth of your startup, and establishing strategic partnerships.
Exposure and visibility: By participating in the program, your startup will have the opportunity to stand out in a global environment, expanding its exposure and visibility in the entrepreneurial landscape. This increased visibility can attract new customers, partners, and business opportunities.
Access to global resources and infrastructure: As a participant in the Cross Acceleration Program, your startup will have access to globally recognized resources and infrastructure. This includes state-of-the-art laboratories, coworking spaces, research and development centers, among others. These additional resources can drive innovation and accelerate the growth of your startup.
Expand your horizons and connect globally
Brasilesia: Cross Acceleration Brazil & Poland
Brasilesia is a cross-acceleration program that promotes collaboration and exchange between Brazilian and Polish startups. Conceived by tecnoPARQ and Polish institutions, Brasilesia provides partnership opportunities, knowledge sharing and access to international markets. During the program, selected startups have the chance to connect with experts, mentors and investors, as well as participate in workshops and networking events. This initiative aims to boost the internationalization and growth of startups, strengthening relations between Brazil and Poland.
The 2023 edition of the Brasilesia program has already completed its registration phase. Stay tuned to the tecnoPARQ website and social networks for information on future editions and cross-acceleration opportunities with other countries.
Past participants and partners
tecnoPARQ is proud of its mutual cooperation agreements between different countries and international institutions.
Check out what they say about their experiences with the first technology park in Minas Gerais
"The guidance provided by Brazilian experts to Indian startups is of immense value and would help startups in their market entry plans. A very successful partnership!"
"The internationalization of Brazilian startups was facilitated by tecnoPARQ, which gave visibility to the Brazilian ecosystem and helped to introduce agritechs to the international scene, mainly at Next Rise, the largest technology fair in Korea."
"This Program has improved the Brazil/South Africa relationship in a very concrete way, as an example of the many possibilities of this wonderful South-Transatlantic partnership in particular. We are very proud and satisfied with the results."
Want to know about the next Cross Acceleration program? Leave your message and we'll be in touch.
connections without borders
International Partnerships
International partnerships are essential to strengthen tecnoPARQ as a global innovation hub and provide valuable opportunities for companies in our ecosystem. In addition to bilateral partnerships with various countries, here are the main strategic partnerships with renowned internationalization support organizations:

ENRICH — European Network of Research and Innovation Centres and Hubs
IASP — International Association of Science Parks and Areas of Innovation
ANPROTEC — National Association of Entities Promoting Innovative Enterprises